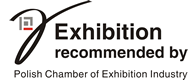 06.06.2017
With great pleasure we present You the changed Poznań Fair Magazine. We invite You to read both its paper and online version. In this issue we present the distinguished guests who visited Poznań International Fair in the recent months, provide reports on the spectacular construction and furniture industry fair and announce the most interesting events of the next months. And moreover…
17.05.2017
At the 10th SNEC in Shanghai 2016, modules with so called "borderless" cell to cell interconnections were quite a hotly discussed technology trend, especially the Seraphim Eclipse. Even though other PV module manufacturers as well have been embarking on the 0BB trend train with models which were shown during the SNEC 2016, Seraphim's Eclipse was the major talk this year. While there is progress made by plenty of manufacturers over the past years in cell efficiency increases, there are comparably few companies that bring to market innovations on the actual module design.
17.05.2017
In Europe, many countries are phasing out feed-in tariff policies for photovoltaic. new business models and financing schemes are needed to support the widespread implementation of PV projects.
More news
---

Next edition Greenpower: 23-25.05.2017
.