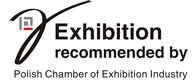 27.06.2018
We present You the latest issue of Poznań Fair Magazine. We invite You to read both its paper and online version. In this issue we present the distinguished guests who visited Poznań International Fair in the recent months, provide reports on the spectacular fair and events, and present Arena Hall, which joined the group of objects managed by the Poznań International Fair. And moreover…
23.02.2018
Enea Operator will take a strategic patronage over this year's edition of the energy fair organized by Międzynarodowe Targi Poznańskie (MTP). EXPOPOWER/GreenPOWER 2018 Fair will be held on 23-26 April in Poznań.
06.02.2018
President of Poland Andrzej Duda on February 5, 2018. Signed developed by the Ministry of Energy Act of electromobility and alternative fuels. - Adoption of the Act creates conditions for spread of electric transport in Poland, and thus opens up new prospects for the development of Polish business and scientific sector. Electromobility can become a driver of modern economy, contribute to the growth of innovation in the energy sector and an effective tool in the fight against air pollution - says Energy Minister Krzysztof Tchórzewski.
01.02.2018
News about your new products in the Polish sector media? It's possible! If you are an exhibitor of GreenPOWER fair send us a description of your new products / services along with a photo. We will promote them – for free – before, during and after GreenPOWER fair.
01.02.2018
MTP Gold Medal Competition GreenPOWER 2018 - We wish to invite you to participate in the Gold Medal of MTP at GreenPOWER, awards which go to the best products and technical solutions exhibited at International Renewable Energy Fair.
01.02.2018
Everyone who professionally deals with the energy market, who is responsible for making decisions and creating future of companies from the industry, should participate in GreenPOWER. 23-26.04.2018, Poznan, Poland.
30.10.2017
We are presenting you with the latest interactive issue of Poznań Fair Magazine "Calendar of trade fair in 2018". It is absolutely unique publication onto polish market! We invite you to click!
06.06.2017
With great pleasure we present You the changed Poznań Fair Magazine. We invite You to read both its paper and online version. In this issue we present the distinguished guests who visited Poznań International Fair in the recent months, provide reports on the spectacular construction and furniture industry fair and announce the most interesting events of the next months. And moreover…